About Company

Weili Sensor – Wenzhou Weili Car Fittings Co. Ltd.,was established in 1995, designs and manufactures auto sensors for the automobile, has established and applies the quality management system for IATF 16949: 2016, ISO 14001, and OHSAS 18001.
Over 3000 references are available in Weili's product range including the ABS Sensor, Crankshaft Sensor, Camshaft Sensor, Exhaust Gas Temperature Sensor(EGTS), Exhaust Pressure Sensor, MAP Sensor, and NOx Sensor with OEM equivalent quality.
Weili now covers an 18000㎡ factory area and employs 190 people in total, exports 80% of its sales to 30+ countries. Thanks to its over 400,000 pieces of stock and the intelligent warehouse management system, Weili can offer its customers the most rapid delivery service.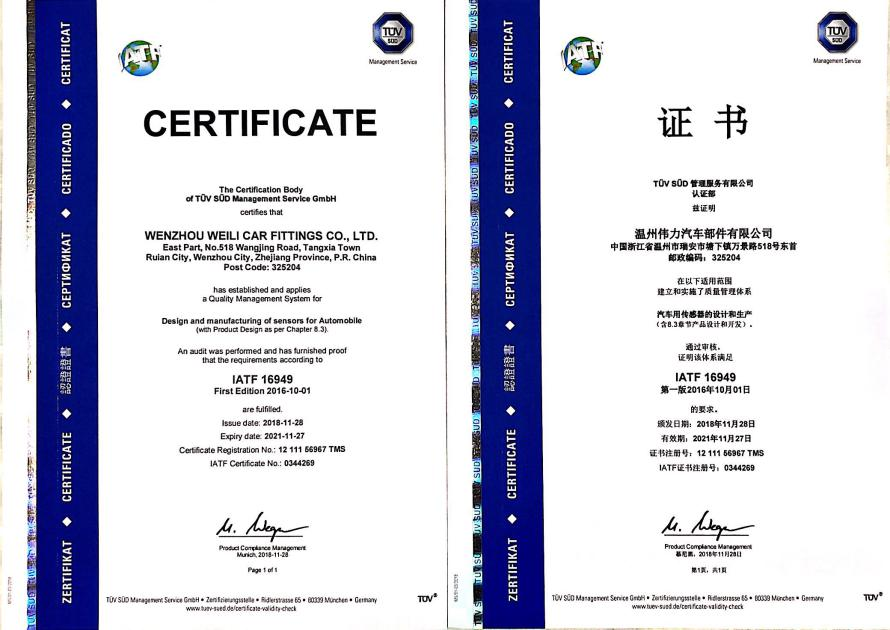 Product quality is highly concerned in Weili, this is an important foundation for sustainable development between Weili and its customers. All sensors are developed under strict durability tests and are monitored and controlled in every step of the production process, surely 100% tested before delivery.
Strived, learned, accumulated, always on the way to progress. In 17 years, Weili is highly praised and has received a lot of customer satisfaction from all over the world, and is still improving.
Weili's history